Power BI Getting Started Guide
Power BI is Microsoft's cloud-based Business Intelligence tool. It is recognized as one of the industries leading BI tools with the capability to connect to a wide range of data sources and easily generate beautiful visuals that will inspire and awe your audience. By following this Power BI Getting Started Guide, you will be up and running in no time.
Download Power BI Desktop
The quickest way to get started is to install the Power BI Desktop application and begin generating visualizations to become familiar with the tool.
Microsoft Power BI offers a wide suite of applications that enable you to deploy visuals, dataflows, paginated reports and much more. You can build reports in Power BI Online application but these have limitations in the number of data sources you can access.
Power BI Desktop gives you advanced capabilities when building your data models, importing datasets from various sources including SSAS, Azure, JIRA, Sharepoint, Excel and hundreds of other data sources.
Click here to download and install Power Bi Desktop. Once installed, you can continue with this guide.
Sample Data Set
With Power BI Desktop installed, you just need a dataset to begin building visualizations with Power BI.
For this guide, we will be using a make-believe retail dataset. You may download the excel dataset here.

The dataset contains fictitious sales information of products classified into Categories. We have customer information such as their location (State and Country) and each customer classified into a Segment.
For metrics, we have the Sales, Profit, and Quantity sold. Let's now import this data into Power BI Desktop and start building visuals.
Power BI Import Data
Power BI allows you to import data from hundreds of data sources and the Power BI team is constantly working on adding additional data-sources.
Let's go ahead and import our excel dataset into Power BI. Use the Get Data button under the Home ribbon to import our dataset.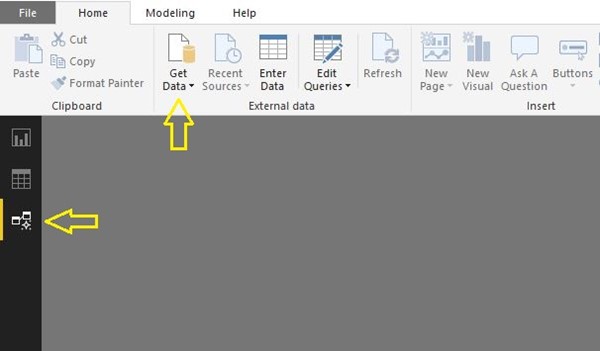 Upon selecting your excel sheet, you will be able to select which Excel Sheet has your data. You can import from multiple sheets into the Power BI model.
In our case, we are only importing data from one sheet. Select the sheet and click load as the image below shows.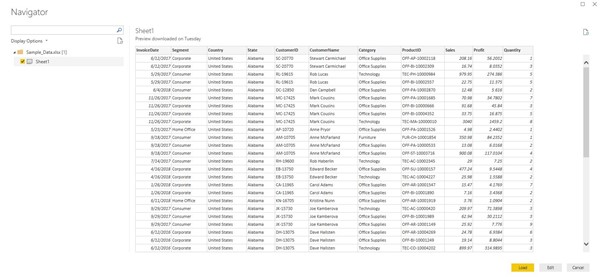 Complex data models are out of the scope of this article, but keep in mind you can define relationships to other datasets in this tab.
In the data model, you may also define data types, formatting among others.
Let's go ahead and change the format of the Sales and Profit columns to Currency. Follow the below image.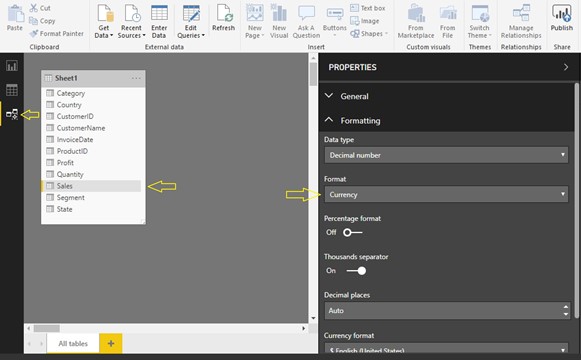 Power BI Measure or Column
When creating dashboards for sales teams, an important metric is the Profit Margin Ratio. The higher the ratio, the more profit a company keeps per unit revenue.
The Profit Margin Ratio formula is the following:
In Power BI, you may add these formulas using DAX and create a Measure or a Column. It is important for you to understand the difference between these two in order for Power BI to calculate correctly.
In short, use Measures for calculations at an aggregate. Use Columns for calculations that take place at each row.
Because the Profit Margin needs to be calculated at the aggregate, create a new Measure called GrossMargin_Percent.
Head on to the data pane, right click on any column header and click on New Measure. Enter the below expression and hit enter (or the checkmark).
GrossMargin_Percent = SUM(Sheet1[Profit])/SUM(Sheet1[Sales])

Lastly, head on to the Model tab, and change the format of this new column to a Percentage format.
Create Power BI Report
With all the data in place, it's time to generate the actual report that your users will see.
First, we will add a card that will display the Gross Margin percentage. To do this, click on the card visual from the Visualizations pane. Then, click and drag the GrossMargin_Percent measure to the data field of this visual. Nice! You have added your first chart to the report.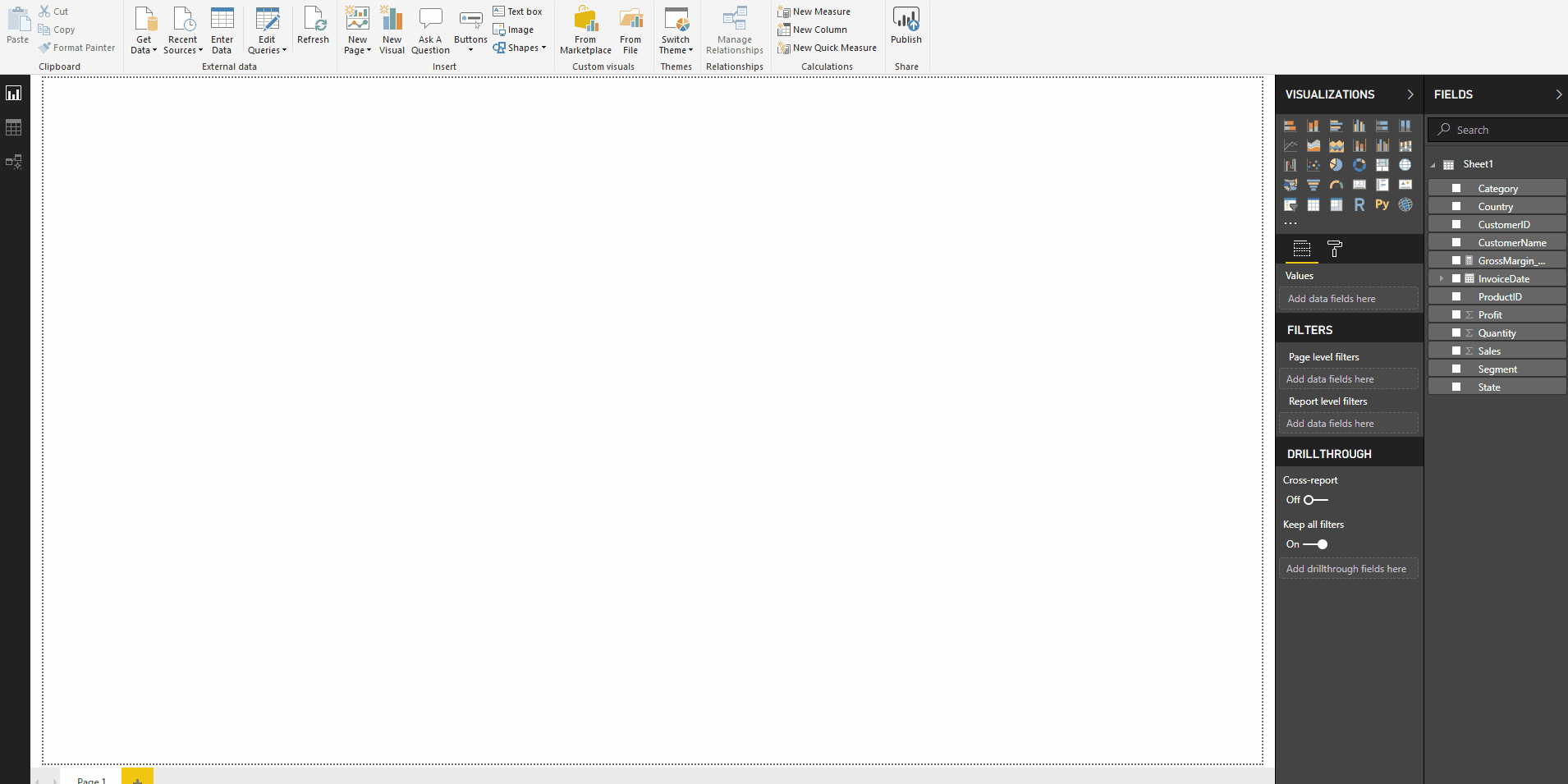 Let's add a few more items to our report. A popular visualization, not necessarily to display information but rather allow the users to filter down the report is a Slicer. In a similar way as the card, click on the slicer. Next, add Category to the values. This will enable you to filter the report to specific categories.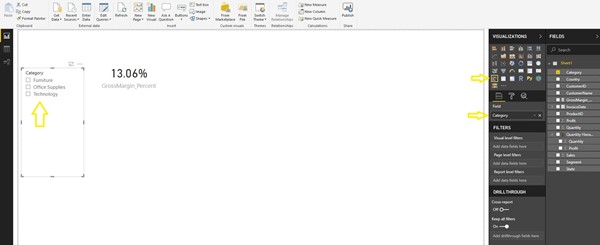 Lastly, let's visualize Sales by Year. Similar to the previous ones, add a Clustered Column visual to your report. Click and drag the InvoiceDate property and then click and drag the Sales property to the Values.

Conclusion
Microsoft Power BI is a powerful Business Intelligence tool, constantly ranked amongst the top 3 BI tools out there today. With this article, you learned how to get started with Power BI and built your first report. You are now able to import data into Power BI, understand the importance of deciding between a Measure or a Column and used a few of the visualizations that are provided. There is still much more to learn about this powerful tool. Keep tuned for more!
Value Management in Healthcare: How to Establish a Value Management Office to Support Value-Based Outcomes in Healthcare (HIMSS Book Series)