Enable Key Influencers Visual in Microsoft Power BI
Microsoft's cloud-based Business Intelligence tool, Power BI is recognized as one of the industries leading Business Intelligence tools. True to its name, it recently released a preview of its first Artificial Intelligence-powered visualization: Key Influencers Visual. The key influencers visual provides an easy to use Machine Learning powered tool for you to discover and extract insights from your data. In this short and sweet article, we will show you how to enable the Key Influencers Visual in Microsoft's Power BI.
What is the Key Influencers Visual?
This visual allows you to find the drivers behind your target attribute allowing you to quickly identify the main factors that influence a particular metric.
For example, let's say you work for an analytically oriented E-commerce company that has a Net Promoter Score value for each of its customers. In addition, you also contain many additional attributes of a customer such as their age, gender, geographic location, products purchased and so on. With the key influencers visual, you will be able to answer questions such as: What customer attributes lead to a high Net Promoter Score? Are there products that decrease my net promoter score?
Not only this. You will also allow your end-users to interact with this visual to review particular factors and see its impact on the selected condition.
Steps to Enable the Key Influencers Visual
Once you know what to do, enabling this and other hidden preview features in Power BI becomes a breeze. Let's go through the steps to enable the Key Influencers visual, currently in preview mode.
The first step is to open the Options menu of Power BI. To do so, click on the File menu, and under Options and Settings click on Options.
Once in the Options Menu for Power BI, under the Global options, click on the Preview Features menu item. You will see features that are under preview for your installed version of Power BI.
As of this writing, Power BI was Version: 2.68. All you have to do next is to enable the Key Influencers visual by clicking on the checkbox next to it. As you go through this list you will notice additional hidden features you might want to try!
There is a new web table inference feature that allows Power BI to transform website data that is not in a tabular form into a table structure you could then import and use with Power BI. You can enable Q&A Live Connect among many other exciting features Microsoft is previewing.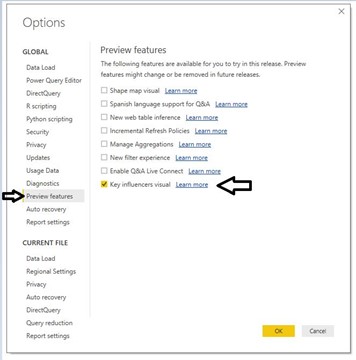 Enabling preview features will require you to restart Power BI. Once you click on OK, the below message will appear indicating you to restart. Click OK and then restart Power BI.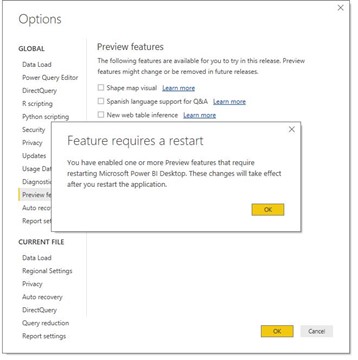 Upon reopening Microsoft's Power BI, you will see the activated feature under the Visualizations menu together with all the other visuals you currently use.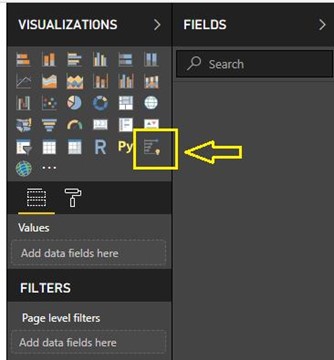 Congratulations! You are now ready to use advanced AI through a simple interface to identify key influencers for your metrics. Armed with this knowledge, you will know what to focus on in order to improve your business.
Conclusion
If you have been trying to use the Key Influencers visual but cannot find the icon, now you know why. Being a preview feature it must first be enabled. In this article, you learned the steps to enable preview features of Power BI. Going through the process I hope you found and became interested in testing out other preview features of Power BI that might be of use to you! Thanks for reading and stay tuned for more.